Quick Action Lugs installed on a drum. The lug allows for the quick release (or disconnect) of the tension rod and the insert from the lug body. The tension rods are loosened to the point where there is no longer tension in the drum head, then after this tension-free point each tension rod will need to be turned two additional turns to release the captive spacer from the seating feature.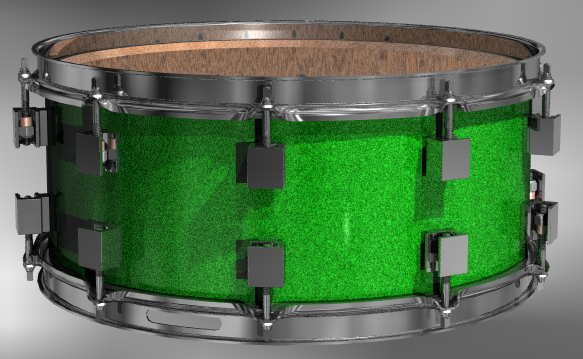 Apply the drum key to each tension rod and loosen it.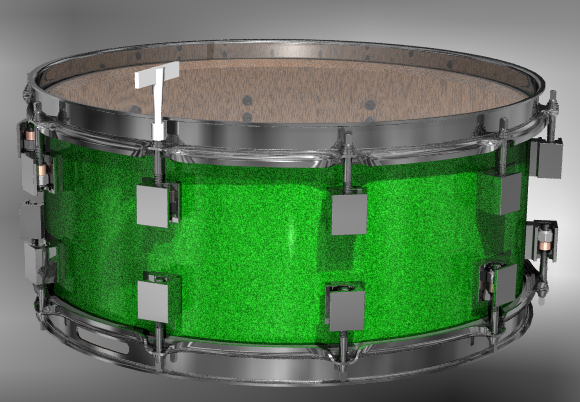 When a tension rod is loose and released from the captive feature it can swing free of the body. The amount of swing that the tension rod can obtain depends on the type of hoop that is used and the clearance between the tension rod and the through-holes in the hoop.

Here the tension rods are angled more, and this can also be the situation when the new drumhead is installed and the rim is rotated to get the holes in the rim aligned with the lugs. The inserts may not freely swing into position. A slight rotation with the finger or drumkey is all that is needed to get the nuts to fall into the slot in the lug. Additionally, the locknut on the tension rod may be "too high" on the tension rod to allow for the spacer to swing into position below the captive feature.
Thus the Quick Action lug also can be used as a tool to hold the nut to allow for further loosening of the tension rod to move the nut lower and allow the seating of the spacer to occur.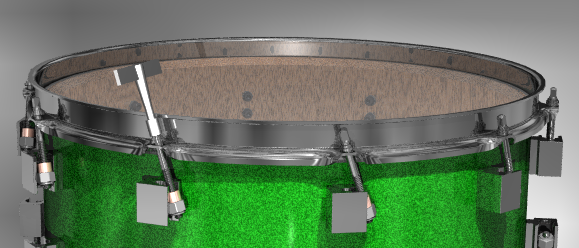 When all the tension rods have been released from the captive feature, the entire rim can be rotated approximately 7 degrees to fully remove the inserts and tension rods from the lug. Then the rim and drum head can be removed.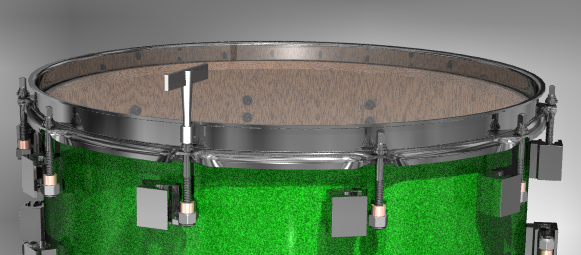 Removal of rim with tension rods, locknuts and spacers attached. Removal of drumhead also.
Tension Rod with Locknut and Spacer removed from lug body.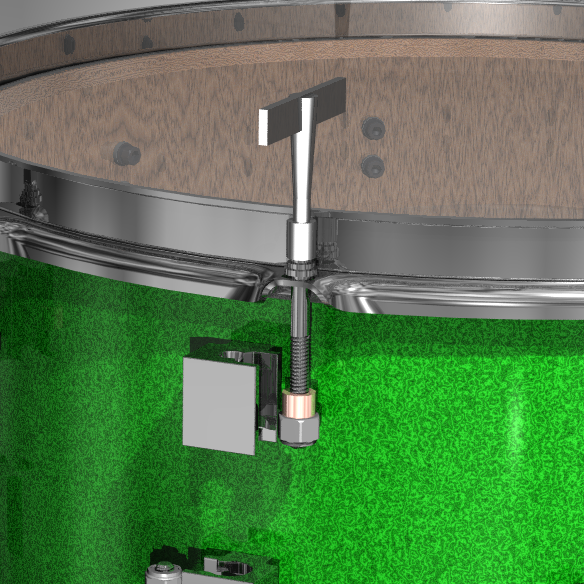 Locknut being held by slot in Quick Action Lug to allow for further loosening of the Locknut to get the spacer to drop below the captive feature in the lug body.